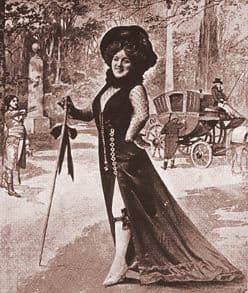 As today is the anniversary of the coronation of Queen Elizabeth I in 1559 it seemed appropriate to give her a mention, although my current focus is on gowns rather than crowns, and a rather different sort of monarch: the Queen of the music halls.
My first talk of 2013 is on 21st January (QV) and the Christmas break has been given over to plotting and scheming for my Marie Lloyd talk.
I have finally decided on which dress I shall make: it shall be the famous Directoire dress, a black and white silk number with a saucy, leg-revealing split. Marie's prop for this song was a director's silver-topped cane. The cane became her emblem to such an extent that it was laid on her coffin for her funeral in 1922.
The costume also includes an extremely large hat and wig combination! Can't wait to assemble it all!